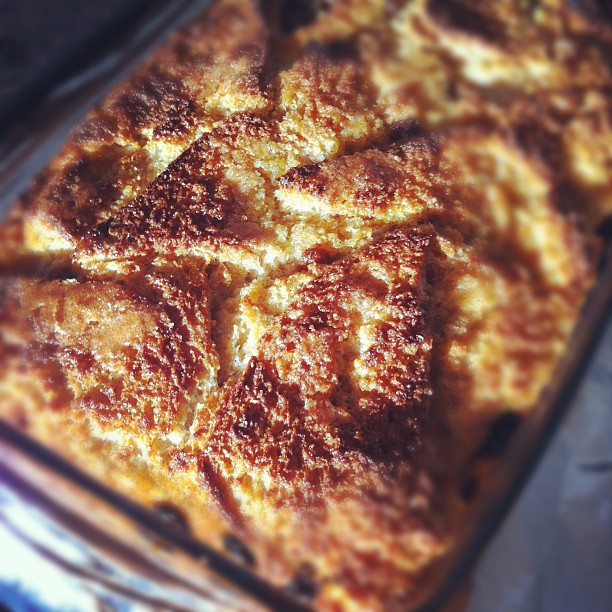 Bread and Butter Pudding
by Katy Green
www.shoptobegreen.com
Yes, I said it. We are not in a time warp:).
We love the Victorian times at Shoptobegreen and we are concerned about selecting the right foods that won't contaminate our bodies. Each one of us has a voice and we have buying power so we can make a difference in the choices we make but also how food is graded and sold to us. In addition, we also believe in using whatever we have in our pantry and not discarding food which contributes to pollution and waste.
Okay, I am off the pulpit and back to my passion anything and everything Victorian. Victorian recipes are robust and heavy (lots of meat pies) as well as sweet and savory.
We can convert any recipe to fit our organic obsessed nature without a lot of fuss. Creating a recipe from things you already have in the house is very green.
The classic Bread and Butter Pudding, a Victorian treat is famous in the United Kingdom. The origin of bread pudding (sans butter) dates back centuries to Roman times.
"In the 18th century, (Victorian times) bread pudding gained a reputation as good food for sick people, probably because it was easy to digest. The primary use of bread pudding is to use up stale bread. Bread pudding is widely considered to be a "comfort food."

Source: History of Bread Pudding
Bread and Butter Pudding
Try

Shoptobegreen's Victorian Organic Bread and Butter Pudding Recipe
4 - 6 slices of Challah or Italian or French, Brioche any chunky bread (I make my bread in a bread oven so I use the slices that are days old). Use whatever bread you have in the house (don't buy bread for this recipe)

4 tablespoons of unsalted butter (room temperature)

2-

3 eggs (certified humane label)

(more slices of bread more eggs so 6 slices = 3 eggs)

2 cups of whole milk or coconut milk or 1 cup of cream and 1 cup of milk (soy might not taste as great) Whatever milk you choose it should have some fat for the flavor

A handful of dried currants or raisins or craisins (craisins are high in sugar so use less sugar) any dried fruit is fine or use rose water or orange water (see below).

3-4 tablespoons of raw cane sugar or (some say 1/2 a cup of sugar but if you are including dried fruit which has a lot of sugar you don't need as much)

zest from half a fresh lemon (don't use lemon juice) if you don't have a lemon don't buy one unless you need it for something else.

Extra flair add: 1 teaspoon of Vanilla and/or 1 teaspoon of

cinnamon
Lemon zest, rose water, or orange water, currants were used in the traditional Victorian Bread and Butter Pudding recipe. Salt is used in most of the new Bread and Butter Pudding recipes but it is not necessary since several of the ingredients already have salt included (butter, milk). For example, a

8 oz of 1%

milk contains

130mg of

Sodium!
Cut the crust off the bread.

Heat the oven to 350 degrees.

Butter bread slices and butter baking dish and arrange in whatever pattern in the dish in layering effect (similar to the way you would for lasagna)
Layer dried fruit between the slices
Use the crust to line the bread around the baking dish like border of picture frame.
In a medium saucepan, scald milk, 2 tablespoons of sugar, and cinnamon or vanilla.
In a large bowl, whisk eggs and slowly pour hot milk over eggs, 2 tablespoons of sugar while whisking also add the lemon zest.
Then pour egg and milk mixture through a strainer to remove any lumps.

Get an additional pie plate or a deep baking dish and pour 1 inch of water into the dish

Set the pudding dish into the water.

Place the pudding into the oven to bake in the water bath for 20 minutes.

Set your timer and then check with a knife by to make sure when you take it out the middle is not soupy. If it is let it bake for 5 minute intervals and then check. The best way to make sure it bakes within in the time frame shown is to make sure the oven is at 350 degrees when you place the pudding in it.

Cool on a wire rack for a few minutes before serving.

The pudding will look like a souffle and will have a light texture like a souffle.

Add powdered sugar or ice cream when served. It is best served not too long after it is out of the oven.
Note: How to make Orange Water:

8 cups chilled water,

2 large oranges.

Cut the oranges into thin slices (very thin - remove the seeds first before cutting). Add orange slices to water. Refrigerate 4-6 hours. You can also drink this water in addition to adding it to any recipe.
Enjoy. Comment and let us know if you have any recipes you would like us to post.